Aug
9
With only four days left until the start of the Second Life Community Convention 2011, here's a quick update on last minute planning tips for those attending the convention either in Oakland or in-world!
Remember to Personalize Your Schedule
Whether you're heading to Oakland or plan to watch the streams on the web or in Second Life, be sure to create or log into your personal account at http://schedule.slconvention.org to set up your own personal schedule of events.  Check off the events you plan to attend to let your friends know which sessions you're interested in, and print off your personalized schedule or view it on your mobile device or smart phone on the go!  Note that events that will only take place in Oakland are in blue, and events that will only take place in Second Life are in grey – everything else will be streamed in-world and on the web via Ustream.
We're especially looking forward to the four keynote sessions and the 50+ speakers in over 30 breakout sessions on Saturday and Sunday, so be sure to check which sessions you plan to attend!
Heading to Oakland?  Plan a Social Event!
We're still accepting last minute birds-of-a-feather dinners, meetups, and social events organized by attendees, just fill out the Social Events & Mixers form and we'll add your event to the schedule!  We've left spots open on Friday, Saturday, and Sunday evenings for attendee organized dinners and social events, so be sure to let your friends know where you're headed.
Saturday evening's live music will feature Dead Cat Hat,
veteran performers in Second Life and the Bay Area!
Not to be missed on Friday afternoon are the AvaCon Meet & Greet mixer, film screenings of the Emmy nominated "Deep Down: A Story from the Heart of Coal Country" and "When Strangers Click", the Saturday evening live music and cash bar featuring music from Dead Cat Hat and DJ Armath Severine, and the concluding film screening of "My Avatar & Me" on Sunday night to close out the convention – all great opportunities to see top notch work by Second Life Residents and artists while networking and socializing with friends!
Oakland Travel Tips
Just a reminder, too, before you hop on a plane or head out the door, we've put together a number of terrific resources to help make your travel experience a pleasant one, so be sure to check out the Planes, Trains, and Automobiles page as well as the In & Around Oakland pages to help you finalize the details for your trip.  All events will of course take place at the Oakland Marriott City Center and the Concierge staff there will also be happy to help answer any questions you may have about local travel and accommodations.
Attending SLCC Virtually – In-World or on the Web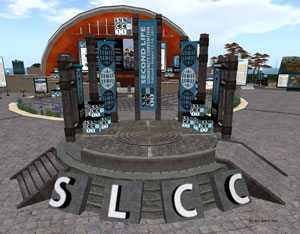 The Central Landing Point on the SLCC sims.
For those who can't make it to Oakland this year, we plan to stream the Keynote Sessions and most of the Breakout Sessions both on the web via UStream and to the in-world SLCC sims!  Be sure to visit the sims early to get a sense of where things are located, and to admire the terrific work of our building team who introduced three new Oakland landmarks to the sims, including the Fox Theater where the Development & Open Source track sessions will be streamed, the Bradbury Building, which will house Public Service & Education sessions, and the Museum of Modern Art (MOMA), where both the Artistic & Creative Expression and Social Experience & Communities track sessions will be held.  Commerce & Marketing sessions will continue to be in Faneuil Hall as they were last year, and of course Keynotes and General Sesssions will be streamed to The Hatch near the Central Landing Point in the center of the 4 sims.
If for some reason you can't log into Second Life to experience the virtual SLCC with other Residents, you can also just view the streams directly on the web via our UStream channels, too!
Looking Forward to a Great Convention!
The AvaCon Board of Directors, Staff, and the SLCC Track Leaders, In-World Team, and Volunteers all wish you happy travels or preparations for the Second Life Community Convention 2011 – and we can't wait to see you in person in Oakland or in the SLCC sims in Second Life!   See you soon and have a safe trip!